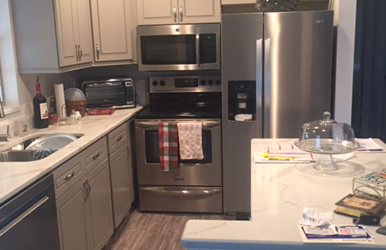 Kitchen
We provide complete kitchen remodels including install of cabinets, cabinets, hardware, countertops and/or just labor to install.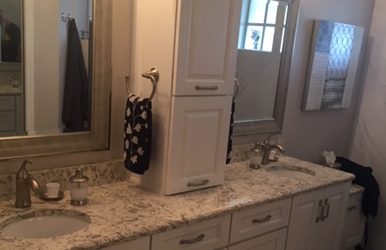 Bath
We provide complete bathroom remodels which include labor, plumbing and materials or either one of these whichever suits you. This also includes shower remodels and shower enclosures.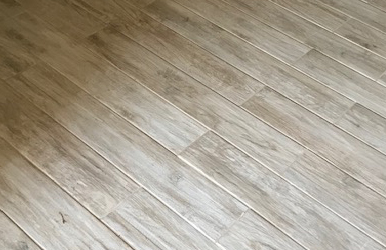 Flooring
Our flooring includes the following: tile, laminate, vinyl, solid hardwood, engineered hardwood. We also provide installation services for the above flooring even if you buy material from somewhere else.
Home Remodeling Services
Nancy's Remodeling is a full service design build remodeling contractor.
We can do any kind of residential/commercial remodeling or new construction. In addition to doing the remodeling we also sell kitchen cabinets, vanities, flooring, countertops etc.
Nancy's Remodeling was founded as "Nancy's Home Services" by Nancy ,the founder of the company in 2006 in Sun City Center, Florida as a painting/wallpaper company.
Years later it evolved into a remodeling company when Nancy decided to retire and sold her stake in the company to SHIRAZ MUKHTAR who changed the name to "Nancy's Remodeling."
We do free initial consults/estimates anywhere in Hillsborough county
KITCHEN REMODELING
BATHROOM/SHOWER REMODELING
FLOORING-TILE,WOOD,VINYL,LAMINATE
COUNTERTOPS-GRANITE,QUARTZ
REMODELING
PROPERTY MAINTENANCE
NEW CONSTRUCTION
Our Clients Are Very Happy With The Work We Do For Them

Awesome place to shop for your home. The deals that I received here were incredible. Shiraz is a licensed General Contractor, everything was done per code. We could rest assured that the demolition and installation would be done with little impact on our lifestyle while the work was being done. They were able to provide us with Cabinets, Quartz Countertops, Tile Backsplashes, Flooring, and Window Treatments. The window treatments were actually 50% less than everywhere else. We are very pleased!!!
Mike Beck
When working with Nancy's I never felt like I was being sold or talked down to. In the past I've worked with contractors that would go overboard trying to tell me I needed so many services (that I didn't want) to increase their bid. Shiraz, the owner, listened patiently and gave me a very reasonable quote to do only the work I wanted. I found everyone I talked to friendly and low pressure. Easy to work with. Afterwards I started to make a list of other projects for them I plan to tackle over the next year. My list keeps growing! I've already referred Nancy's to two other friends looking for home remodeling services."
Melissa Roberts
We used Nancy's Interiors to add a shower and to remodel a bathroom, close in an open loft area including adding a door, installing a counter top, replacing defective dry wall around a large kitchen window, and replacing faucets in our kitchen and master bath. As soon as Shiraz , the owner, came for our initial interview, we new right away we had found the right person for the remodeling work we were doing. He was very engaged from the start with questions and ideas. He knew exactly what we wanted to accomplish and came up with many good ideas.
Peter Steitz